This is the initial agenda for the Advisory Group working session #3.
AGENDA
1. Welcome – Secretariat
2. Agenda co-setting – all group members and Secretariat 
Short report: Where does Education for Climate stand? - Secretariat follow-up action points and community members
Community member evolution
strong increase in community membership, also reflected in growth active users (comments, event enrollments, likes)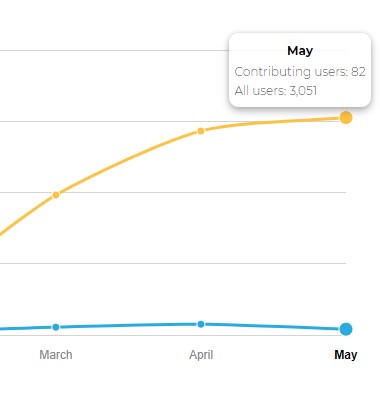 Education for Climate Policy and Practice Forum
Successful event - currently collecting feedback and designing follow-up actions for below challenges, also leading up to the second edition of the Education for Climate Day currently slotted for October 5th. 
Upcoming and running challenges
Currently 3 challenges running at different stages of their ideation/co-creation:
> How to make saving water a lifelong habit?
> Let's plant 3 billion trees!
> How to run a hackathon in preschool?
Upcoming: 
> Be a marine scientist! - playful challenge around the European Atlas of the Seas and climate change
Based on your feedback, we have adapted all 'ask us anything sessions' in terms of scope and timing: check it out. Always including community illustrations - SHOWCASES - to engage in inspiring practical&applied practice/experience exhanges. 
> Platform user experience improvements​​ and design adaptations, based on collective workshop input
> getting ready for the second Education for Climate Day currently slotted for October 5th
> running inspiring challenge co-work sessions (see above) and community outreach workshops where applicable and desireable for community to brainstorm collective action to implement in challenges​​​​​
3. AOB
> inspiring, bridging and mobilizing community authenticity, commitment and creativity
> GreenComp as self-assessment tool (whole school environments as "self" to be included in exercise for students, teachers, etc for different perspectives), cf. SELFIE
4. Conclusion and way forward – all group members 
Dudle for next meeting: https://dud-poll.inf.tu-dresden.de/zXLGRXOj9g/
Please respond (positively like negatively) to both the dudle AND the following webex invite to be able to gauge availability and participation commitment to make those meetings impactful. Thank you.